Transfers to Paraty
Paraty Cultural Calendar
Events Calendar

Paraty Events Calendar - Rio de Janeiro, Brazil Find all the information on cultural events, parties, shows, traditional rel [+ info]
Excursions to Trindade
Discover Trindade!

This is a great ride for those that love nature and beach, a day excursion to some of the best beaches in Paraty. Come Discover Trindade, a true fishermen village!
The Trindade region boasts over fifty preserves beaches that have been almost untouched by civilization. The most famous spots are the ones next to the villages such as Cepilho, Brava, Cachadaço and Trindade.
Trindade is on the Paraty district, in the state of Rio de Janeiro, Brasil, located just 25 kilometres south of the city of Paraty. The area is enviromentally preserved and it is located inside the Serra da Bocaina National Park, which holds 97.953,00 hectares of preserved forests and hills. Inside the park there are restinga different ecosystems such as Atlantic Forest and High Atlantic Forest.
Please bring:
Walking shoes or sandals fit for trekking.
Sun screen
Water
Cap
Swimming clothes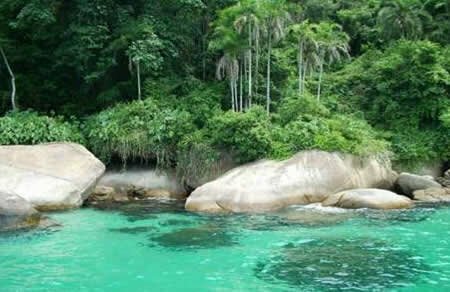 On the Trindade Tour you will visit the following locations
Cachadaço natural piscine: snorkelling stop. 
Praia do Cepilho Beach: picture stop
Praia do Cachadaço Beach: swim stop and 30 minutes guided walk through a path to the Cachadaço natural piscine
Praia dos Ranchos Beach, or Praia de Fora Beach: stop for a swim.
Praia do Meio Beach: 25 minutes guided walk through the forest   
OPTIONAL Luch stop: Praia dos Ranchos Beach
Price: R$ 70
Excursions to Trindade
DEPARTUE 11 am
PRICE R$ 70 (per Person)
DURATION 6 hours
The Tour to Trindade includes
Snorkel and mask
Guide
Transportation from Paraty
Mineral water
Binoculars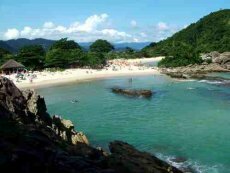 Everything you need to kwon about Paraty is here!
Paraty Tours - Excursions in Paraty - Scooner Boat Tours - Waterfalls - Accommodation in Paraty: Hostels, Hotels, Guest Houses, Bed & Breakfast, B&B, Pousadas, Online Bookings - Paraty Pictures & Maps of Parati - Pictures of Paraty Beaches - Paraty News & Events - Events and Cultural Calendar - FLIP - Carnival - Reveillon - New Year's Eve - Tourist Information - Museums, Artists, Live Music - Restaurants - Where to eat in Paraty - Where to shop in Paraty - Nightlife, Bars and Shows.


LOGin Desarrollos