Colonial World Heritage

Paradoxically, the long stagnation process that Paraty underwent turned out axial in preserving the colonial architectural heritage in the area known as the Historic Centre, turning it into one of the most sought after destinations in Paraty
Through the irregular cobblestone roads tourists from all over the globe stroll by -cars are forbidden in this area-, attracted by the typical beauty of colonial Brazil. They stop at former manor houses turned into inns, restaurants, museums and shops, as they enjoy street musicians and living statues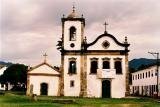 Kept as a historical heritage, the Centre of Paraty is definitively a relic. The area was given by the imperial authorities in colonial times in order to develop the village. Then the military engineers planned the streets, squares, churches and residential areas which were organized in perfect harmony. The architecture is very simple, made of two storey houses along side streets. The higher classes lived at the nearby haciendas where the great landowners lived in impressive manor houses.
Whale oil lamps provided the street lighting, and the main streets have a channel in the middle through which the rain water would drain and the sea water would flood and clean out the Historic Centre.
With its many and preserved colonial buildings, the Centre is a place where no car traffic is allowed. It is indeed an outdoors museum. But in this museum photographs are allowed, you can touch everything and you can revive the past.
Among the colonial buildings you must visit:
Chafariz do Pedreira
Casa da Cultura (Culture House) - considered by UNESCO as the most representative piece of architecture of the 18th century.
Sacred Art Museum: Located at the backyard of the Church of Santa Rita, the exhibition is open from Wednesday to Sunday from 9:00 am to 12:00 pm and from 2:00 pm to 17:00 pm
Sobrados (Warehouses)
- Rua Matriz (one of the oldest)
- Rua Dr. Pereira (It has no windows, formerly a deposit it now serves as an atelier for local artists)
- Príncipe (at Rua Fresca, bordered by imperial palm trees, symbols of the royalty)
- Rua dos Bonecos (where traditional puppet presentations are held).
Religious Monuments - The churches are the great attraction. In the colonial times, each one was destined for a specific class in that highly hierarchical society.
-  Igreja Matriz Nossa Senhora dos Remédios was attended by fishermen and white workers
- Igreja Santa Rita by the freed half-breeds
- Igreja Nossa Senhora das Dores by the aristocracy 
- Igreja Nossa Senhora dos Rosários e São Benedito by the slaves.
Military constructions such as the forts and cannons, which guard the memory of the battles of those times: barracks, warehouses and prisons.The most visited ones are:
- Forte Defensor Perpétuo where the Traditional and Popular Arts Centre and the House of Powder are located.
- The Patitiba Barracks, which hosts the Public Library and Art Gallery.
- Fort Iticupê, overlooking the bay.

LOGin Desarrollos