Regular Transfer Prices
Price From São Paulo:
R$ 264 p/person for One Way
(minimum 2 people)
Transfers to Paraty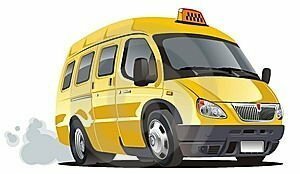 Transfers from São Paulo to Paraty
Do you need a Transfer to Paraty?  From your Hotel in Sao Paulo or from  the Airport directly to Parati.
Forget about all the problems of arriving from international airports to your final destination. Buy your  Door to Door Transfers on-line and start your holiday from the moment you land in Brazil. Our trasnfers will take your from the Airport oryour Hotel to Paraty or other destinations in the Green Coast (Costa Verde).
Regular and Private Transfers from Sao Paulo or Rio to Paraty.
Travelling abroad always enthralls unforeseen issues. So that you avoid these unnecessary complications we offer you the option of on-line booking for your transfer from Sao Paulo or Rio to Paraty, either from the airport or our Pick-up point to the door of your hotel in Paraty.
You can also book a transfer from the city to our hostel in Paraty, if you decide to stay a few days in Rio or Sao Paulo before coming to our lovely colonial paradise. Or you can even book a transfer from our hostel and pousada to other tourist cities in the area. No matter which transfer you need, you can safely book it on-line from your computer.
Our associates operate private transfers from São Paulo, Ubatuba, Paraty, Angra dos Reis, Mangaratiba, Rio de
Janeiro and Búzios, among other cities.
This service is provided at request, via booking. This kind of transfer is very comfortable since you can choose both time and place to be picked up.
Regular Transfers to São Paulo
We offer regular Transfers to and from São Paulo to Paraty.
This service runs daily, with a flat fare per person (minimum two passengers). Providing Hotels andAirport Pick-up. We also also provide pick up in São Paulo at Hotel Blue Tree Tower Paulista.
Note: REGULAR SERVICE, MINIMUN 2 PEOPLE.
DEPARTURES / PICK UP TIMES FROM SÃO PAULO
From downtown Hotel Blue Tree Tower Paulista:
Departures at: 8:30 am and 2:30 pm (arrival 5 hours later)
or
From Guarulhos International Airport (GRU):
Departures at: 9:30 a.m. e 3:30 p.m. (arrival 4 hours later)

PRICES ARE PER PERSON: R$ 264 one way (min. 2 people).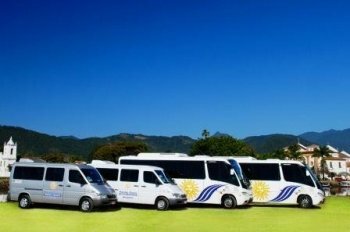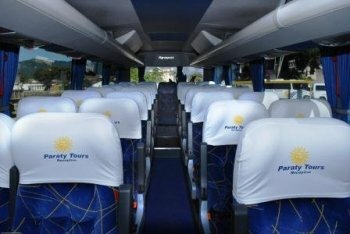 Prices for Private Transfers
Preços Traslados Privativos (cada viagem)

(1)

Trecho

Carro

(até 3 pessoas)

Van

(até 10 pessoas)

Van

(até 15 pessoas)

Onibus Luxo

(até 25 pessoas)

Paraty / São Paulo (Cidade)

R$ 1155

R$ 1559

R$ 1732

R$ 3622

Paraty / São Paulo (Aeroporto GRU - Guarulhos)

R$ 1113

R$ 1538

R$ 1669

R$ 3517

Paraty / São Sebastião / Ilhabela

R$ 1018

R$ 1318

R$ 1517

 R$ 2835
(1)
Prices are for the whole Vehicle. One way.
WE PROVIDE TRANSFER ALL OVER THE GREEN COAST AND SAO PAULO COAST.
More information on the Transfer Service
The transfer vehicles are constantly renovated and diversified. And they have all the operational and managing structure to provide you with a quick, safe and efficient service:
Own facilities;
24 hors staff, including Saturdays, Sundays and holidays;
Drivers equipped with radio system;
Carefully selected professionals and dully trained to provide the best attention and service to their clients;
Computerized Maintenance and Bookings Control;
Back up Vehicles and drivers;
Passenger insurance;
Own preventive and corrective Maintenance;
Control and Coordination Team.


The Fleet
EXECUTIVE MICROBUS Equipped with A/C, TV, DVD, microphone, Frigobar, individual reclining seats.
MERCEDES BENZ SPRINTER EXECUTIVE VANS Equipped with A/C, Frigobar, individual reclining seats and music.
EXECUTIVE VEHÍCLES Equipped with A/C, Frigobar, leather seats music, cell phone and radio.Up to 3 people with luggage.

The following information from passengers is required: full name of the passengers, service date, Air Company and flight number, pick up place and time. Also we need some ID number (passport) and nationality.

LOGin Desarrollos