Transfers to Paraty
Paraty Cultural Calendar
Events Calendar

Paraty Events Calendar - Rio de Janeiro, Brazil Find all the information on cultural events, parties, shows, traditional rel [+ info]
Jeep Tours
Take a thrilling ride through the jungle: Paraty Jeep Tours!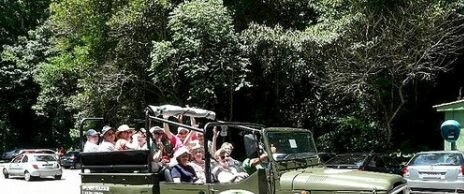 Are you after some thrilling adventure in the woods? The jeep excursion is a must for nature lovers!
Take an unforgettable jeep ride to the waterfalls of the Serra da Bocaina National Park. The tour starts with astop is the Gold Road exposition, where you´ll learn a bit of the history of Paraty. From there you'll walk to the Tobogã waterfall, where local practice stone surfing, a risky and full of adrenaline stunt. Then we will take another short 10 minute walk to the Tarzan waterfall, ideal to swim in its crystal clear waters. After these waterfalls you'll be driven to the Liquor Distilleries Engenho D'ouro, where you can sample different Pingas and spirits and watch the production of the purest "pinga" in the region.
At the stop at the Vila Verde, you can have lunch in a relxed environment, surrounded by Mata Atlântica lush vegetation. Here you can also chill out, jump into the waterfall and appreciate the landscape.
During the Paraty Jeep Excursion there is a lot of nature and you'll get to see the flora of Paraty including the Jequitibá, one of the largest trees in town and plants such as Bamboo Brasil, Sleepers, Bromeliads and Little Parrots.
Our next stop is Fazenda Murycana, another distillery home of the famous Murycana cachaça. There is also another optional stop for lunch at the Pedra Branca. There is a waterfall to refresh as well.
The last stop of the Jeep excursion is the Bromeliads exposition; where there are more than 300 species of these magnificent plants (it is ideal for photographers).
After the exposition you'll be taken back to Paraty by Jeep.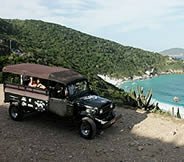 On the Jeep Tour you will visit the following locations
Serra da Bocaina National Park
Tobogã Waterfall
Tarzã Waterfall
Fazenda Murycana
Pedra Branca Waterfall
Bromeliads Exposition
Engenho D'ouro Pinga Distillery
Vila Verde Restaurant
Price: R$ 80
Jeep Tours
DURATION 6 hours 
PRICE R$ 77 (per Person)
DEPARTURE 10:30 am
The Jeep Tour in Paraty includes
Jeep with choffer
Guide.
Mineral Water 
Ticket to the fazenda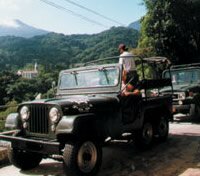 Everything you need to kwon about Paraty is here!
Paraty Tours - Excursions in Paraty - Scooner Boat Tours - Waterfalls - Accommodation in Paraty: Hostels, Hotels, Guest Houses, Bed & Breakfast, B&B, Pousadas, Online Bookings - Paraty Pictures & Maps of Parati - Pictures of Paraty Beaches - Paraty News & Events - Events and Cultural Calendar - FLIP - Carnival - Reveillon - New Year's Eve - Tourist Information - Museums, Artists, Live Music - Restaurants - Where to eat in Paraty - Where to shop in Paraty - Nightlife, Bars and Shows.

LOGin Desarrollos