Tourist Information
Excursion to Trindade

Day excursion to the best beaches in Paraty. Discover Trindade, a fishermen village! [+ info]

Transfers to and from Rio de Janeiro

Book your transfer from the airport to straight to Paraty on line [+ info]

Paraty Beaches

The natives of Paraty said that simply to dive in the waters of the Paraty bays was able to cure any disease. And no wonder! [+ info]
Trinidade
A hidden tropical retreat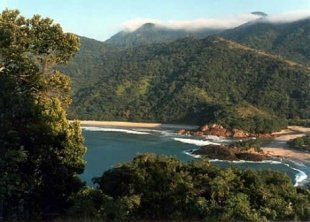 Where is Trindade?
Trindade is located in the Paraty district, in the state of Rio de Janeiro, Brazil.
Trindade is a natural preserve and it is located in the Serra da Bocaina National Park, which has 97.953,00 hectares of preserved areas. In the park you can find several ecosystems such as the Atlantic forest and the high Atlantic forest.
It is only 25 kilometres south east of Paraty. 
A bit of history
During the '70s Trindade became a hippie refuge. In the ?80s it became a hidden pearl for adventurers from afar who ventured the long and tiresome dirt road (specially the uphill part known as "God Save Me") to reach the Paradise-like beaches of Trinidade.  But since the '90s modern tourism have taken over the quiet village keeping its tranquil yet adding some of the comforts of modern life.
Fishermen villages were turned into rustic inns and bars, boutiques and small shops were opened and the road was paved.
Archeological diggings carried out in the '70s found several pieces of clothing and pottery and bones that belonged to prehistorical tribes. Until then one of the biggest problems for archeologists was the destruction of archeological sites by treasury hunters motivated by the legends of pirates and hidden treasures. 
In the Trindade region there are more than fifty well preserved beaches, some of them almost untouched by the hand of man.  
The most famous ones are the ones next to the small towns of Cepilho, Brava, Cachadaço and Trindade.
How do I get to TRINDADE?
Trindade is located 25 kilometres south of Paraty, in the border with Ubatuba. The access road is fully paved. The surrounding forests are preserved and five of the most beautiful beaches in Paraty are located here (Brava, Cepilho, Fora, Trindade e Figueiras), as well as a salt water natural pool (the Caxadaço) and some waterfalls.
On the roundabout access to the Historic Centre of Paraty, continue towards Santos. After 18 kilometres you reach the Bairro do Patrimônio roundabout take a left on the uphill access to Trindade.Paraty > Trindade (by bus):
In the Rodoviária de Paraty (Paraty Bus Station), take the urban bus Paraty-Trindade line.
The fare is R$ 2,60. The service runs from 8am to 12:30 pm and 2:30 pm to 6 pm. 
Horarios

Sentido PARATY > TRINDADE

Sentido TRINDADE > Paraty

05:20 07:00 08:00* 09:00 10:00 11:00 12:00 13:00 14:00 15:00 16:00 17:00 18:00 19:20 20:30 22:30 *  only Monday to Friday.

06:00 08:00* 09:00 10:00 11:00 12:00 13:00 14:00 15:00 16:00 17:00 18:00 19:00 19:40 21:20 23:20 *  only Monday to Friday.

More information: Empresa Colitur: (024) 3371-1224

More information: Empresa Colitur: (024) 3371-1224

LOGin Desarrollos