Transfers to Paraty
Paraty Cultural Calendar
Events Calendar

Paraty Events Calendar - Rio de Janeiro, Brazil Find all the information on cultural events, parties, shows, traditional rel [+ info]
Boat Tours
Enjoy a lovely tour through the islands of the Paraty Bay on a Boat Excursion!

This tour is a "Paraty must do"! Don't leave Paraty without taking this trip! Enjoy a day on the Bay islands, sail on this incredible boat tour and visit the best beaches in Paraty, dive underwater, watch the sea life or just lie on the deck looking the beautiful landscape of the Green Coast. The boat has four stops to swim in crystal clear waters.
There is bar and restaurant services available during the whole trip and those who wish to have lunch can choose from some meals in the menu.
The boats have open decks that allow you to descent or jump easily to the sea at the swimming stops.
Paraty Boat Tours leave daily at 11 am and last about four hours. Departure is from the Paraty pier.
You should take the following to the Boat Tour:
Cap
Swimming clothes
Mineral Water
Sun screen
 
On-line bookings R$70 per person

On the Boat Tour you will visit the following locations
The Tour changes daily according to weather conditions. Possible stops include:
Praia da Lula Beach
Praia Vermelha Beach
Praia de Santa Rita Beach
Mantimento Island
Comprida Island
On-line bookings R$70 per person
Terms and Conditions:
For changes or cancellations refunds will only be issued with 2 or more days notice from the date of the Transfer.
It will remain under the operator´s discretion to issue refunds for Changes, or Cancellations with less than 2 days notice, or in cases of "No-shows".
Price: R$ 80
per person
On-line bookings R$70 per person
Boat Tours
DURATION 6 hours
PRICE R$ 80 (per Person)
[Online Booking offer R$70]
DEPARTURE 11 am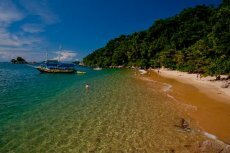 The Boat Tour includes
Boat tour on  the Bay of Paraty
Four swimming stops.
Optional: Lunch.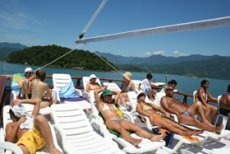 Everything you need to kwon about Paraty is here!
Paraty Tours - Excursions in Paraty - Scooner Boat Tours - Waterfalls - Accommodation in Paraty: Hostels, Hotels, Guest Houses, Bed & Breakfast, B&B, Pousadas, Online Bookings - Paraty Pictures & Maps of Parati - Pictures of Paraty Beaches - Paraty News & Events - Events and Cultural Calendar - FLIP - Carnival - Reveillon - New Year's Eve - Tourist Information - Museums, Artists, Live Music - Restaurants - Where to eat in Paraty - Where to shop in Paraty - Nightlife, Bars and Shows.

LOGin Desarrollos