New Year Accommodation Packages


Paraty New Year's Eve Acomodation Packages at Geko Hostel


Paraty New Year - 2015 in Parati

New year's eve will find you dancing in Praia do Pontal!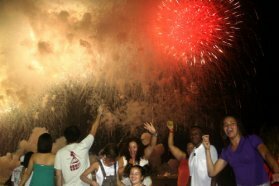 New Year's Eve in Paraty
 ! The New Year's Eve is celebrated by Paratians in a very special way. New Year's Eve is considered the third most important event in the city's touristic calendar, second only to the International Literary Festival and Carnival.
Hundreds of people, almost everyone clad in white, get together at the prefect natural scenery of Praia do Pontal, to bid farewell to the year that finishes and toast for the coming one in a completely peaceful, harmonic and safe ambience.
The reunion at the Praia do Pontal started at the beginnings of the 20th century but is also celebrated at other beaches of the district. Some of the bay islands also promote some special events that provide an eve full of attractions.
In the sky you can enjoy the fireworks scheduled for 12 am. In the sand beach, the devotees set offerings for Iemanja, the sea goddess. As the New Year comes, hope reborn creating a magical, unforgettable and exciting moment. A moment that is one of the favorite days in Paraty, Rio de Janeiro.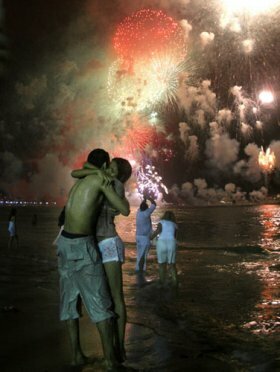 New Year's Eve Parties at hotels, boats and restaurants
In order to celebrate the coming of the New Year, some hotels and restaurants organize amazing parties that summon locals and Brazilians and foreign visitors alike. To toast, they offer champagne glasses and special menus. There are also some parties held at travel and private boats in the Paraty bay. Check out the different options for this coming 2015 New Year's Eve in Paraty. 
Paraty New Year - 2015 in Parati, come and enjoy it with us! 
2015 New Year's Schedule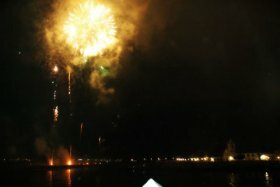 Several options are offered for those visiting the city and want to spend an unforgettable New Year's Eve. In the sky, the most spectacular firework display, scheduled for 24 hours. On the sands, as well as at sea, devotees make offerings to Yemanja, thequeen of the waters. The new year arrives and hopes are renewed when creating amagical, unforgettable and exciting moment. A moment that is the face of Paraty!
---

LOGin Desarrollos