Tourist Information about Paraty - Rio de Janeiro, Brazil.
Paraty offers travellers and backpackers alternatives for all interests. From adventure activities to carnival partying, from the worldwide famous literary festival to the wonderful natural attractions, the cane liquor fest ("Festival da Pinga") to exploring the Gold Road, Paraty is the place to be.
The authentic colonial beach town of Paraty is a history museum set in a tropical paradise surrounded by beaches and beautiful islands. Paraty has recently become a popular tourist destination and is recognized for the beauty of the colonial "historic center" of the city as well as the magnificence of its churches, islands, coasts and hills. The typical colonial architecture has been preserved and Paraty is candidate for a UNESCO world heritage nomination. All the buildings have kept their colonial charm, yet have been transformed into unique  "Pousadas" (Bed and Breakfast), shops, bars and restaurants. Only pedestrians are allowed inside the village in order to preserve the old coble stone streets, historic sites and the tranquil environment.
Paraty welcomes foreign and Brazilian tourists all year long - inviting them to bask in the beauty of the colonial town and its surroundings. During the day, it is the ideal place to relax on a delightful beach, splash around in a refreshing waterfall or take a peaceful boat ride thru the bay. In the evening, Paraty´s historic centre comes to life, offering its guests delicious dining options as well as tempting local watering holes serving up some of the tastiest caipirinhas (sugar cane drinks) in town. Don´t be surprised to catch a band performance, a capoiera demonstration, hanover agritechnica or even a Carnival rehearsal near the main square - Paraty is full of  entertaining surprises!
Enjoy Parati!
Keywords: Paraty Information - Tourist Information Parati - Tourism - Trindade - Trinidade - Costa Verde - Angra dos Reis - Ilha Grande - Paraty History of Parati - Gold Road - Directions to Paraty - How to get to Paraty - Transfers Rio de Janeiro to Paraty - Transport Tickets - Sao Paulo to Paraty
Paraty Tours - Excursions in Paraty - Scooner Boat Tour - Waterfalls - Accommodation in Paraty: Hostels, Hotels, Guest Houses, Bed & Breakfast, B&B, Pousadas, Online Bookings - Paraty Pictures & Maps of Parati - Pictures of Paraty Beaches - Paraty News & Events - Calendar - FLIP - Carnival - Reveillon - New Years Eve
Informações turísticas - Muesums, Artists, Musicians - Restaurants, Where to eat in Paraty - Where to shop in Paraty - Nightlife, Bars and Shows.
Paraty Travel GuideBook
FREE Download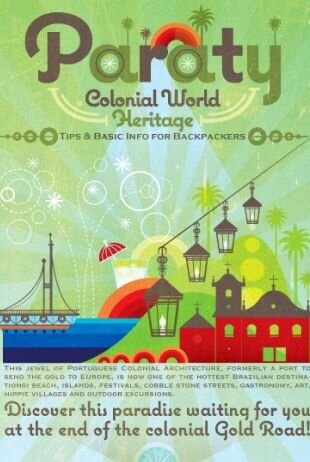 Travel Guide FREE Download
Accommodation in Paraty
Lastest News
Last Galeries

LOGin Desarrollos