Transfers to Paraty
Paraty Cultural Calendar
Events Calendar

Paraty Events Calendar - Rio de Janeiro, Brazil Find all the information on cultural events, parties, shows, traditional rel [+ info]
Kayak Excursions
Kayaking in Paraty: Sport, nature and adventure!

This is one of the best choices for sport and open air fans! Explore the quiet waters of the Paraty Bay and enjoy great views of the city and the hills from the sea! The kayak excursion paddles through the tropical mangroves, the former cannon sites used to protect Paraty from the pirates and sandy beaches. Pluse, there are stops for diving in crystal clear waters.
Sea kayak is one of the most adventurous ways of enjoying nature in Paraty, which combines sport, exploration and contemplation.
Sea kayaks are seaworthy small boats with a covered deck. They trade off the manoeuvrability of white-water kayaks for cargo capacity, ease of straight-line paddling. They are also more comfortable for long journeys. The kayak length determines its load capacity, speed and direction stability. The longest may fit two or three people. The width affects its load capacity and stability. The longer ones are faster and more unstable, while the shorter are more manoeuvrable, wider and more stable.
The Kayak Excursions will take you to
Isles
Mangroves
Beaches
Former defensive cannon sites
Price: R$ 55
Kayak Excursions in Paraty
Guided Tour
DURATION 6-7 hours (approximate)
DEPARTURE Arrange with guide
PRICE R$ 80 (per Person)
Rental by day
PRICE R$ 55 (per Person)
The Tour to Trindade includes
Paddle
Lifebelt
Sea Kayak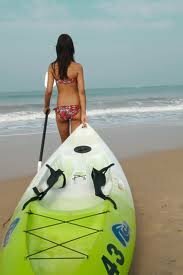 Everything you need to kwon about Paraty is here!
Paraty Tours - Excursions in Paraty - Scooner Boat Tours - Waterfalls - Accommodation in Paraty: Hostels, Hotels, Guest Houses, Bed & Breakfast, B&B, Pousadas, Online Bookings - Paraty Pictures & Maps of Parati - Pictures of Paraty Beaches - Paraty News & Events - Events and Cultural Calendar - FLIP - Carnival - Reveillon - New Year's Eve - Tourist Information - Museums, Artists, Live Music - Restaurants - Where to eat in Paraty - Where to shop in Paraty - Nightlife, Bars and Shows.


LOGin Desarrollos