Accommodation

Hotels in Paraty, Accommodation, B&B, Bookings, Packages, Discounts in Paraty. [+ info]

Transfers to and from São Paulo

Transfers São Paulo - Paraty Buses from the Airport Guarulhos to Parati [+ info]

Paraty Beaches

The natives of Paraty said that simply to dive in the waters of the Paraty bays was able to cure any disease. And no wonder! [+ info]

Paraty Nightlife - Where to drink in Paraty
What better way to spend a balmy Paraty evening than strolling the cobblestone streets in search of a nice , refreshing drink and some lively entertainment. You won´t have to walk very far as the town is buzzing with hip and happening bars, lounges and clubs offering up some very tasty beverages and more often then not, live music.
Most of the action takes place around Praca da Matriz ( main square) but throughout the historic centre, there are many local watering holes worth a visit. There is a large range of places to choose from. If you want cosmopolitan and international like the bars in gatwick airport hotels, you´ll find it. If you want a joint serving straight-up caipirinhas, Skol and Antartica...you won´t have to go far either! There is something for everyone in Paraty.
*** be prepared to pay a cover charge or an extra fee for live music in Paraty - it is the norm and well worth it.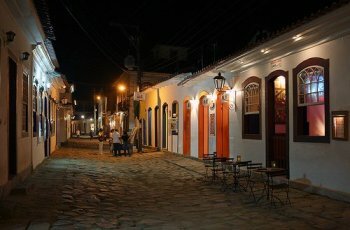 Praca da Cachaca - Praca da Matriz
A tiny hole in the wall bar serving up some of the most delicious caipirinhas (typical sugar cane drink) in Paraty - don´t miss out on a tasty passion fruit or mango caipi!!
Dinhos - Praca da Matriz
One of the few clubs in town - this place gets going a bit later but plays some great tunes or  hosts live bands and boasts a dance floor to dance the night away!
Festival da Pinga
Do you like caipirnha? Discover the fun Festival da Pinga - Sugar Cane Liquor Festival. The ultimate caipirinha drinkers´ paradise will be in Paraty from August 19th to 22nd!
Che Bar - Praca da Matriz
Che Bar offers up a funky and loungy atmosphere - they serve good food and good drinks, normally accompanied by live music - great place to start off an evening!
Cafe Coupe - Praca da Matriz
A popular hang out spot for young locals and tourists, this bar is in the perfect location - wooden tables set up right in the square, ideal for people watching and sipping on a cold brew.
Cafe Paraty - Rua do Commercio
The café features local foods, plays local music nightly, and serves locals as well as visitors.It is the ideal  place in which to get a feel for present-day Paraty alongside all that history.
Paraty 33 - Rua da Lapa
This restaurant/bar/ club is a higher end alternative . The food and drinks are delicious yet pricey, the atmosphere is wonderful and the daily live music is always entertaining.
On Friday and Saturday evenings, Paraty 33 turns into a happening club - all tables are moved aside to allow for wild nights of dancing.
Margarida Cafe - Praca Chaffariz
This eclectic restaurant is set in a typical colonial building and serves up a wide menu of brazilian and international meals as well as a wide array of cocktails, beers and wines. A great place to dine or lounge!
Cervejeria Camelo
Attention beer lovers! Cervejaria camello is an excellent place for those who appreciate a refreshing brew.
They have a huge selection of  beers including several brazilian micro brews.
The place often plays music videos on a large screen and the service is good and lively.
---

LOGin Desarrollos