Themes
Accommodation Packages in Paraty
Accommodation packages in Misti Chill Hostel & Pousada
Accommodation packages in Geko Hostel Paraty
Historic Centre

Kept as a historical heritage, the Centre of Paraty is definitively a relic. [+ info]

Transfer

Transfer N > Transfer [+ info]

Excursions & Tours

Ecotourism, Adventure Tourism, boat rides and much more! [+ info]

Accommodation

Hotels in Paraty, Accommodation, B&B, Bookings, Packages, Discounts in Paraty. [+ info]
a celebraçâo em un belo escenário! | May, 16 2012
PROGRAMAÇÃO da Festa do Divino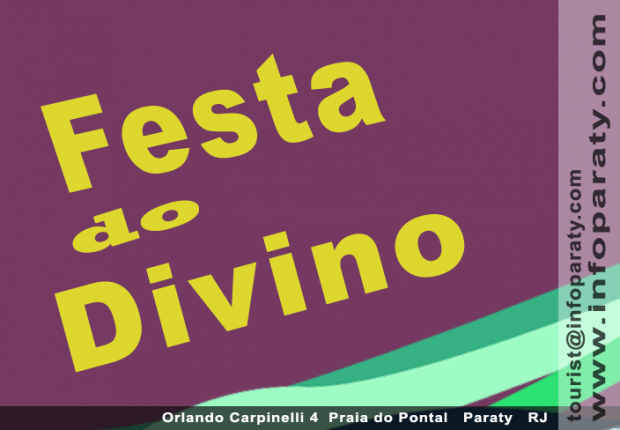 De
18 ao 27 de Maio
 venha a acompanhar as belas celebrações na Igreja da Matriz de
Paraty
e depois aproveite uma das festas mais esperadas do ano nessa cidade maravilhosa
The feast of the Holy Spirit in Paraty is the most traditional of the country, despite the transforming action of the tempo and the integration of the city and its inhabitants with the culture of the great centers of Brazil.

The Feast of the Holy Spirit is one of the most important of the Catholic Church and the city of Paraty. This holiday celebrates the descent of the Holy Spirit upon Jesus' disciples at Pentecost, 50 days after Easter.
Festa do Divino SCHEDULE:
05/18 Friday
 - Chama Maré Band
05/19 Saturday
- The Haoles Band
05/20 Sunday
 - Heros Band
05/21 Monday
  - Dj Marino
05/22 Tuesday
 - Dj Marino
05/23 Wednesday
 - Show Calouros Mirim (Marli)
05/24 Thursday
 - Show  Calouros (Marli)
05/25 Friday
 - Sacode a Poeira Band
05/26 Saturday
 - Legião Tribute
05/27 Sunday Pentecost
8:30: Canadian Caiçara Canoe and fight in Pontal Bridge

9am:  Translocation of the Radiance of the Holy Spirit from the residence of the organizers of the festival, accompanied by the emperor and his vassals, to the Mother Church

12h: Liberation of the prisoner in old jail

13h: Emperor distributes candy to children in the house of revelers

15h: Pau de Sebo parking in the square

17h: Mass of Thanksgiving, with procession and proclamation of the new party-goers

22h: SHOW SÓ PRA CONTRARIAR BAND (SPC)

Sending...
WRITE YOUR COMMENT
The purpose of this service is adding value to the notes and establish a more fluid contact with our readers.
Comments should be dimensioned to the topic of discussion. You will notice the brevity and clarity of the texts, and good use of language: the bad words and insults will not be published.
Please correct the highlighted fields.

Comment

LOGin Desarrollos