March, 07 2012
São Jorge Day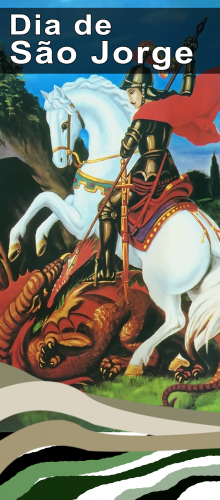 St. George is the patron saint "unofficial" in Rio de Janeiro, because it is a phenomenon in the local culture.
His devotees are counted in thousands, and April 23, St. George's Day, everyone pays tribute to the "Holy Warrior", achieving an authentic expression of faith. This ritual starts at dawn, where fireworks are launched in different parts of the city, followed by the traditional Mass in the Parish Church of St. George in Quintino.
Enjoy a unique cultural event in Rio de Janeiro with the best daily price.


The dragon (the devil) symbolizes idolatry destroyed by the weapons of Faith. Since the maiden who the saint defended, represents the province in which he extirpated heresies. Tradition has it that the moon stains represent the miraculous saint and his sword ready to defend those who seek their help.
Transfers to and from Rio de Janeiro

Book your transfer from the airport to straight to Paraty on line [+ info]

Caiçara Tour

Discover the lively and traditional traits of Paraty on a cultural tour to remember! [+ info]

Paraty Nightlife

In the Trindade region there are more than fifty well preserved beaches, some of them almost untouched by the hand of man. [+ info]

Sending...
WRITE YOUR COMMENT
The purpose of this service is adding value to the notes and establish a more fluid contact with our readers.
Comments should be dimensioned to the topic of discussion. You will notice the brevity and clarity of the texts, and good use of language: the bad words and insults will not be published.
Please correct the highlighted fields.

Comment

LOGin Desarrollos