Themes
Accommodation Packages Easter at Misti Chill Hostel


Paraty Pinga Easter at Geko Hostel


Come to enjoy a unique Easter in Paraty! | March, 24 2012
The schedule for Easter in Paraty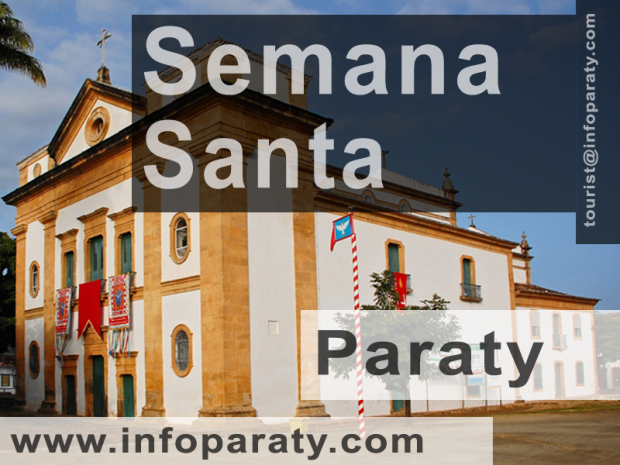 is a celebration thar involves all people in the city out into the streets and it is celebrated with a hughe commitment. This celebrations of Easter in the historic city of Paraty keep traditions that goes back to the XVII and XVIII century, it's an oportunity to admire the images and holy pieces that have more than 300 years. Six of this pieces of unimaginable architectonic value can be seen during holy friday in Paraty: the , they opoen only once a year.
RELIGIOUS SCHEDULE FOR EASTER IN PARATY 2012 
THURSDAY
After the Mass, it takes place the called Procession of the Holy Sacrament from the church to a side chapel, there the habit of worshiping the Holy Sacrament until midnight takes place. After the worship, the procession of torches or prison happens. The procession symbolizes the prison of Christ. The faithful take the streets of town with torches in their hands and maracas.
FRIDAY
Around 15hs it's celebrated the Solemn Liturgy Action of  . At night fall there's the performance of the Passion of Christ with the sermon of the Descent of the Cross and then the Procession of the Burial, carring the coffin with images of the Lord dead.
SATURDAY
The Easter Vigil begins on Holy Saturday night in memory of the holy night of glorious resurrection of the Lord Jesus Christ.
SUNDAY Easter

In the afternoon, around 17hs, the mast of the Feast of the Divine is risen, officially giving start to the holiday, and at night occurs the Easter Mass of the Lord, the coronation and the transfer of the image of Our Lady of Sorrows from the Main Church to the Chapel of Our Lady of Sorrows.

 source: Igreja Parati

Sending...
WRITE YOUR COMMENT
The purpose of this service is adding value to the notes and establish a more fluid contact with our readers.
Comments should be dimensioned to the topic of discussion. You will notice the brevity and clarity of the texts, and good use of language: the bad words and insults will not be published.
Please correct the highlighted fields.

Comment

LOGin Desarrollos